Date/Time
04/11/2023 (Sat) 2:30 pm - 5:30 pm
Location
TU201, PolyU
Categories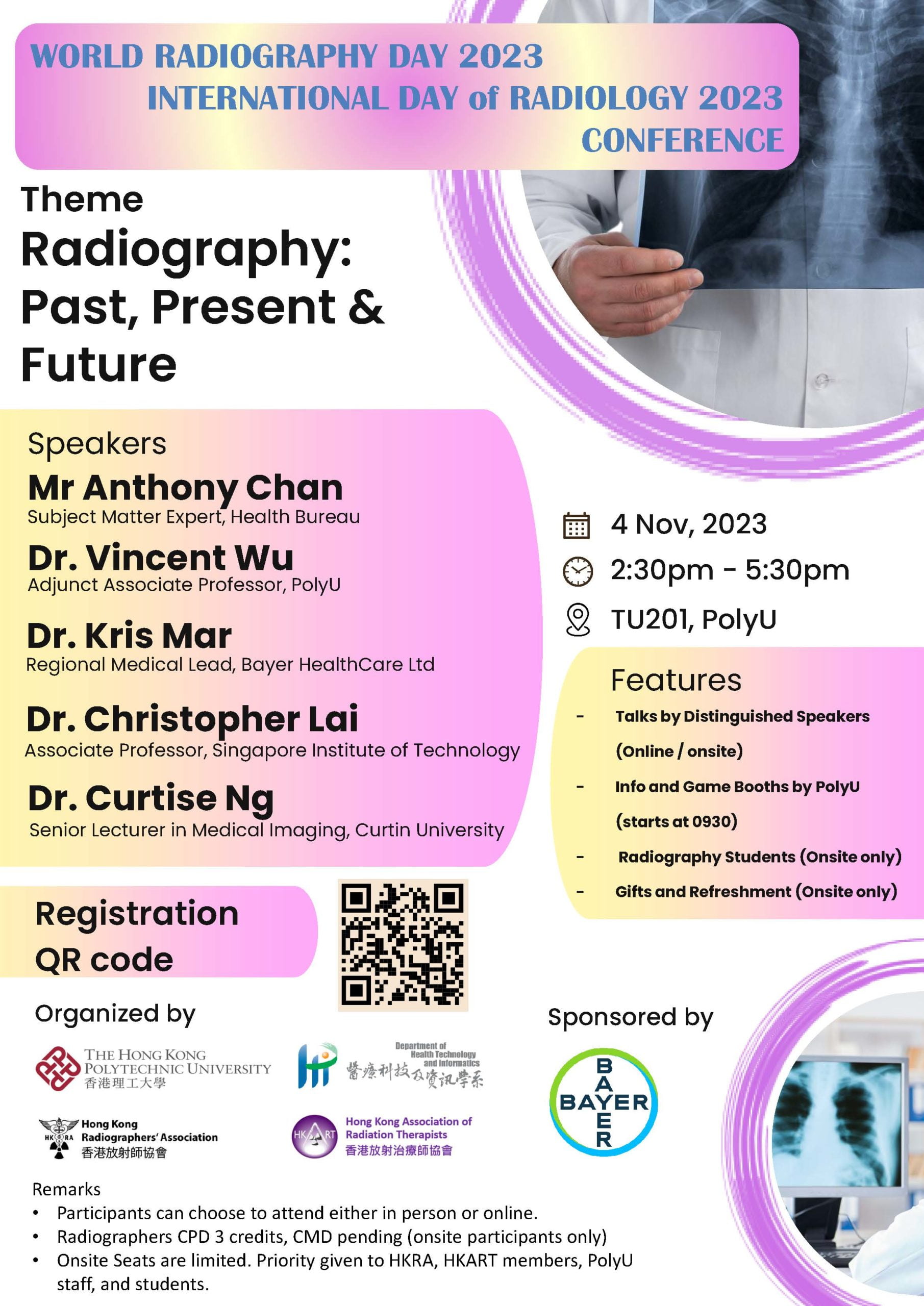 World Radiography Day 2023 Conference Info
Date: November 4, 2023
Time: 2:30pm – 5:30pm
Location: TU201, PolyU (onsite) or online
Theme: Radiography – Past, Present & Future
Speakers:
– Mr. Anthony Chan, Subject Matter Expert, Health Bureau
– Dr. Vincent Wu, Adjunct Associate Professor at PolyU
– Dr. Kris Mar, Regional Medical Lead at Bayer HealthCare Ltd
– Dr. Christopher Lai, Associate Professor at Singapore Institute of Technology
– Dr. Curtise Ng, Senior Lecturer in Medical Imaging at Curtin University
Talks will cover distinguished speakers sharing their knowledge and expertise related to the theme of Radiography – Past, Present & Future.
There will also be info and game booths by PolyU starting at 9:30am for onsite participants.
Registration:
– Onsite seats are limited.
– Register via QR code on poster or link
Features:
– Attend in-person at PolyU or online
– Radiographers receive 3 CPD credits (onsite only)
– Gifts and refreshments provided for onsite attendees
Sponsored by: Hong Kong Polytechnic University, Department of Health Technology and Informatics, Hong Kong Radiographers Association, Hong Kong Association of Radiation Therapists.