Date/Time
31/10/2021 (Sun) 11:00 am - 1:00 pm
Categories No Categories
The 9th online CPD Program for Asian Radiographers and Radiological Technologist Societies is hosted by the Indonesian Society of Radiographer (PARI)
in conjuction with,
The 65th Anniversary of PARI – Indonesian Society of Radiographer.
Date and Time
Sunday, 31st October 2021
10.00-12.00 WIB-Indonesia (GMT +7), Cambodia, Vietnam.
11.00-13.00 Hong Kong, Macau, Philippines, Taiwan (GMT +8)
09.30-11.30 Myanmar
Registration:
bit.ly/9thCPDASIA (Overseas Registration)
Information & Inquiries:
asiacpd.pari@gmail.com
Speakers:
Dr. Melita Sp. Rad (K) – Neuro Radiologist Consultant, National Brain Centre Hospital – Indonesia
"Imaging of Epilepsy"
Wahyu Widhianto, Amd.Rad, S.Si – MR Clinical Application Specialist, PT Siemens Helathineers Indonesia.
"MR Technical Aspect Imaging of Epilepsy"
-This online CPD Course will be conducted by using the Zoom Video Conferencing.
-For registration please follow fill out the registration form. Link to access the video conferencing will be sent via Email.
-All fees (include certification) for this event are waived. Welcome all Medical Professional to participate.
-The CPD Course duration is from 1,5 to 2 hours. A Continuing medical education certificate will be issued after the course.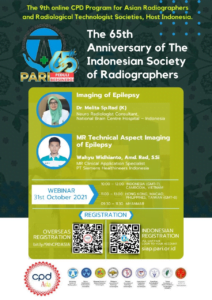 Bookings
Bookings are closed for this event.